Staff Profiles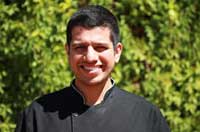 Dr. Preshit Joshi
Dr Preshit Joshi has been practicing since 2008 and has worked in all aspects of General and Restorative Dentistry. Dr Joshi is our principle dentist here at Fremantle Smiles and also works closely with our dentists at our other clinic South Fremantle Family Dental.  Prior to working at Fremantle Smiles, Dr Joshi worked in regional Western Australia in the small country town of Katanning for a number of years.
Dr Joshi is a confident and friendly dentist who believes in forming a good and honest relationship with his patients by accurately diagnosing and treating their dental conditions. Dr Joshi's moto in delivering quality service to his patients is "Honesty, Accountability and being Proactive".
Dr. Joshi is "Tech savvy" and likes to incorporate new gadgets in dentistry to his practice. He keeps himself busy by attending numerous continuing education lectures and courses locally and nationally. This allows him to stay up to date on the latest developments which help him to provide the finest care to his patients.
Outside of the dental practice, Dr. Joshi likes to spend time with his family or try his hand at a new sport, his favourite being cricket. Dr Joshi also actively participates in local fundraising organisations like the Fremantle Lion's Club.
---
---