Staff Profiles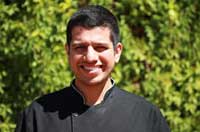 Dr. Preshit Joshi
Dr. Joshi has been practicing since 2008 and has worked in all aspects of General Dentistry.Prior to working in Fremantle Smiles, Dr. Joshi worked in regional Western Australia in a small country town of Katanning for a number of years.
He is confident, articulate and a friendly dentist who belives in forming a good, honest relation with the patient and accurately diagnosing and treating dental conditions. He is "Tech savvy" and likes to inculcate the new gadgets in dentistry to his practice.He keeps himself well upated by attending numerous continuing education lectures and courses so as keep abreast of the latest developments which help him to keep providing quality care to his patients.
He strongly believes in Honesty, Accountability and in being Proactive, which are his moto in delivering good services to his patients.
When not attending to his patients, Dr. Joshi likes to try his hand at Golf and Tennis, likes to socialize and actively participate in Fundraising organisations.
---
Dr Stefanie Toerien
Dr Toerien brings to Fremantle Smiles a wealth of experience in the Dental Profession in a career, which has so far taken her to five different countries over the course of the past 16 years. Dr Toerien has worked in variety of Dental practices in countries as far afield as the Falkland Islands and the United Arab Emirates. Dr Toerien moved to Australia in 2009 to accept a Government position in the outback-mining town of Newman in the Pilbara. Dr Toerien found the experience of working in an isolated rural community challenging and rewarding. Since moving to Perth in Feb 2011 Dr Toerien has taken up part time work with Fremantle Smiles and a part time teaching role at the Oral Health Centre of WA supporting clinical teaching to undergraduate students.
---